As the Medicare Advantage program continues to grow (and as Wall Street investors continue to profit), advocates are pushing back against the many ways that commercial health insurers are shortchanging seniors and people with disabilities. News reports, investigations, and opinion pieces have all highlighted troubling behavior on the part of Medicare profiteers.
Interested in developing your own letter or op-ed? See our detailed suggestions on writing and submitting an opinion piece.
New York Times report exposes Medicare Advantage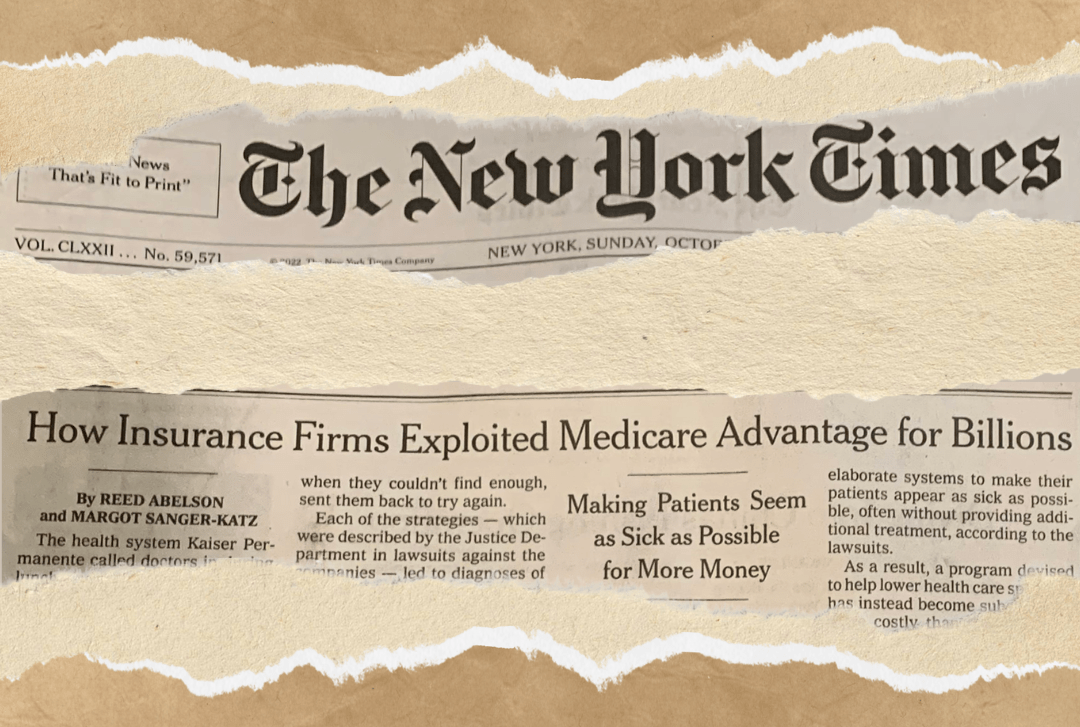 In October 2022, The New York Times published a stunning rundown of fraud allegations and lawsuits against Medicare Advantage insurers, many of whom have lined up to participate in Medicare Direct Contracting and REACH.
Wendell Potter: "Medicare Advantage is a 'Heist' by Private Firms"
Medicare Advantage news stories and opinion pieces
Medicare advocates have been raising the alarm about Medicare Advantage and the threat it poses to seniors and people with disabilities.
Podcasts:
"Is Medicare Advantage too good to be true?" featuring Dr. Ed Weisbart, Code Wack Podcast, Dec. 5, 2022
"Secret rules, denials & fraud: The dark side of Medicare Advantage," featuring Dr. Ed Weisbart, Code Wack Podcast, Nov. 7, 2022
"More like Medicare Disadvantage, AMIRITE?" featuring Dr. Susan Rogers, Healthcare-NOW Podcast, Oct. 12, 2022
News stories:
Opinion pieces:
"It's Time to End the Medicare Advantage Scam," by Rep. Ro Khanna, Rep. Mark Pocan, and Wendell Potter, The Nation, Dec. 9, 2022
"Millennials can save Medicare," by Alexa D'Angelo, New York Daily News, Dec. 2, 2022
"Medicare Advantage? More like Medicare Disadvantage," by Helaine Olen, The Washington Post, Nov. 30, 2022
"Enrolling in Medicare? What you should know about TV time, fraud and what's next," by Dr. Robert Stone, The (Bloomington, Ind.) Herald-Times, Nov. 17, 2022
"How Medicare Advantage Scams Seniors," by Rep. Jan Schakowsky and Wendell Potter, Newsweek, Nov. 15, 2022
"Don't fall for the Medicare 'disadvantage' scam," by Dr. Richard Cook, Southern Maryland News, Oct. 31, 2022
"Medicare Advantage? Medicare Disadvantage would be a better name," by Dr. Jessica Schorr Saxe, The Charlotte Observer, Oct. 25, 2022
"How Private Insurers Exploit Medicare," by Cheryl Kunis, The New York Times, Letters, Oct. 23, 2022
"'Advantage' plans are eroding Medicare's mission," by Dr. Lloyd Alterman, NJ.com, Oct. 23, 2022
"Be Careful and Do Some Research Before You Sign Up for 'Medicare Advantage'," by Patty Harvey and Dr. Corinne Frugoni, Lost Coast Outpost (Humboldt County, Calif.), Oct. 13, 2022
"What's Wrong with Medicare Advantage?" by Dr. Stephen Kemble, The Indypendent, Oct. 6, 2022
"Medicare Advantage Is a Massive Scam," by Ryan Cooper, The American Prospect, April 29, 2022
Ready to take action? Write a letter to the editor or op-ed warning about the dangers of Medicare Advantage. You may also wish to call your member of Congress at (202) 224-3121 and urge them to both crack down on Medicare Advantage profiteering and make necessary improvements to the Traditional Medicare program. Questions? Email organizer@pnhp.org.